Saturday, December 6, 2014, from 8:00 AM until 12:30 PM.
The talk will focus on how Jewish women were treated in first-century Palestine, on Jesus' mother Mary, and on the place of women in Jesus' ministry.  We will consider the question, "Who was Mary Magdalene?"  We will look at the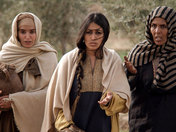 biblical examples of Jesus' actions toward women, which are reflected in his teachings and healing work; and finally, we will take a brief look at womanhood's contribution to the early Christian church.
Kristy L. Christian, M.A.R., is a class-taught Christian Scientist.  She graduated from Principia College with a B.A. in History/Secondary Education.  She received her M.A. in Religion, with highest honors, from Oklahoma City University's School of Religion.  Ms. Christian is President of Biblos Foundation and has given Bible talks and workshops throughout the United States, Canada, India, and England for the purpose of helping audiences learn how to study the Bible in its inspired meaning.
Location:
Westin Pasadena Hotel
191 N Los Robles Ave.
Pasadena, CA 91101
Fee:
$25.00 each person, includes breakfast and talk
$20.00 each person for current Biblos Foundation members, includes breakfast and talk
To make a reservation starting as early as the week of October 20th:
Go to Biblos website at www.biblosfoundation.org
Email Gregg Merrill at gmerrill@biblosfoundation.org
Phone Gregg Merrill at 636-527-0436 (St. Louis area)
Additional Details:
Parking:
Self-parking at Westin – $5.00 extra charge, each vehicle, weekend rate, pay Westin directly.
Valet-parking at Westin – $16.00 extra charge, each vehicle, weekend rate, pay Westin directly.
Event Timing:
Breakfast  8:00 am –   9:00 am Courtyard
Talk           9:00 am – 12:30 pm Plaza Room
Local Contact:  Jackie Reid – daytime 213-928-0920